4-Month GRE Study Plan
12/16/2020
(See also my one, two, and three month GRE study plans. Vince's 2 main options to help you with your GRE prep are HERE.)
Hi, I'm Vince! Welcome to my 4-month GRE study plan.
Here's what you'll learn on this page:
How long should you study for the GRE?
In general, as long as you can. 
The more study time you have, the more you'll improve. Improvement generally comes from the accumulation of experience with math, the accumulation of vocabulary for verbal, and, of course, from the honing of your strategies for various types of questions.
Most people prepare for 1-3 months, but that doesn't mean YOU should prepare for 1-3 months! You're unique; you're not the average of "people". It depends on where you're starting, score-wise, and what your score goals are.
BTW, below is a video of a quick study plan I made for someone starting off with a 156V and 147Q:
Who's This Vince Guy?
Why listen to me? I've been doing this for 13 years. My successes and failures with students have taught me what works and what doesn't work. There's no fluff here - just the best stuff I've found for studying for the GRE.
Also, my plans are based on official ETS material and won't make you waste time with unrealistic test-prep company questions. You don't need to sign up for an expensive GRE course to use my plans, either.
If you have a question about this study plan, you can get in touch with me here.
Testimonial: "My name is Samantha, and I am currently applying to Physician Assistant school. I took my first GRE in April, and I solely used Magoosh to study for about three months. My results were, in my opinion, pretty disappointing for all the time I put into studying - a 304. I felt that ETS was way harder than anything I saw on Magoosh. When looking at the ETS books on Amazon, I saw your comments and checked out your website and study plans. I decided to take the plunge in following your one month plan before re-taking my GRE. And guess what? I raised my score by seven points in that short span of time! I wanted to thank you from the bottom of my heart for all the work and effort you put forth into making your plans accessible to the public; they made a world of difference in my studying, comprehension, score, and hopefully my applications as I finish those up."
Best GRE Books For 2023
I know it would be great if you just needed to buy one GRE book or course, but if you're serious about improving, you'll want to use a few different resources. 
Note: This page contains Amazon affiliate links and I earn a commission if you purchase things through them. However, any commission I earn comes at no additional cost to you, and you pay nothing extra. My recommendations are based on deep experience with these resources, and I recommend them because they are helpful and useful, not because of the small commissions I receive if you choose to buy something.)
Why buy: Contains 596 official GRE practice questions, which are worth their weight in gold. Other companies' practice questions and tests, to put it bluntly, suck.
Tip: The primary purpose of owning this book is to use its practice questions, but you'll get much more out of those questions if you learn some verbal and math strategies before working on them. My YouTube channel is a good place to learn strategies for free.
ETS Big Book (27 old tests!)
Why buy: Don't buy it! It's out of print and costs a fortune, but it's online as a PDF if you look. It has 27 old tests that are good practice for math, reading comprehension, critical reasoning, and text completion.
This book is your new best friend if you're bad at math, since most of its math questions are easier than those in the Super Power Pack. They're a great way to build skill and experience so you can tackle harder questions later.
ETS Powerprep GRE Tests (#1 for practice tests)


Why buy: This is as real as it gets: practice tests written by the people who create the GRE. I recommend using all five (two are free and the other three cost $39.95 each).
Other GRE Study Materials
Why buy: My new app has questions, drills, and formulas for the most commonly tested GRE math concepts - plus, it's actually fun to use! There are even little games to give you a break from all the math practice.
Why buy: I think you'll have fun learning vocab with my GRE vocabulary cartoons. The mnemonics, funny illustrations, and the spaced repetition algorithm will help you remember the words.
Prepswift from Gregmat (#1 for math concept foundation)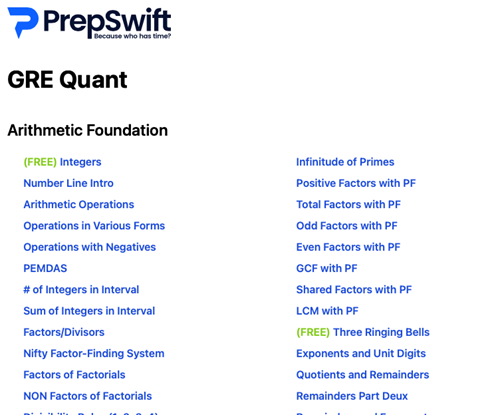 Why buy: Prepswift is a series of short videos explaining every little GRE math concept you can think of. It's an excellent way to build GRE math conceptual foundation - and it's incredibly inexpensive!
Why buy: When working on GRE math, it's nice to be able to do a bunch of questions in a row for a certain concept, so this is the one exception to my admonition to avoid third-party-written GRE material. Just don't do any verbal questions in this book.
Tip: For any given math chapter in the 5-lb., don't worry about the questions you can't do. Just aim to complete some questions for each topic in each chapter depending on how much you need to work on that topic.
Why buy: If you take the At Home GRE, you can't use a pencil and paper - you need to either use a dry erase whiteboard or a piece of paper covered with a clear plastic sheet. 
Why buy: Normal dry erase markers are too thick to use for math problems - these work much better.
Why buy: If you're a high achiever and have the time for it, official GMAT material is good additional practice for quant (just don't do the GMAT's "data sufficiency" questions), reading comp, and critical reasoning.
An alternative to buying these books is downloading the free GMAT Prep software and using the two tests therein. You can take those tests more than once, since they draw from a huge pool of practice questions. Another great source of free GMAT questions is GMATclub.com - pick "OG" or "Quant Review" as your sources on that page, so you only get official questions.
FYI: I've heard from people who switched from the GMAT to the GRE at the last minute, and a few of them crushed the GRE with almost no GRE-specific training. GMAT experience can definitely help!
Why buy: There are things in your life you have to do that aren't related to GRE prep, and if you don't have a system to work on those other tasks, they can eat up your precious GRE study time. I love this planner since it forces you to prioritize tasks on a daily and weekly basis and provides a method to increase your focus and attention.
Why buy: Your biggest GRE prep obstacle might be you. In this book, Jocko - a former Navy SEAL - tells you how to move past your excuses and get shit done. If you're the type to be more inspired by "Just Do It" as opposed to something more touchy-feely, this book might be helpful for you.
Not sure you'll like the Jocko approach? Check out his Instagram or podcast.
Why buy: An excellent guide to the entire admission process, not just the essay. Read the whole damn thing from cover to cover if you're serious about getting into a particular program.
Want some personalized assistance with your graduate school personal statement or statement of purpose? Check out our options here!
Vince's 4-month GRE study plan
(See also my one, two, and three-month GRE study plans.)
Estimated time: 1.5 - 2 hours on weekdays, 3 - 4 hours on weekend days. If you don't have that much time, do what you can, and don't be discouraged if you can't finish everything! Be kind to yourself and take care of your physical and mental health.
If there are tasks you don't finish in week 1, for example, push them to week 2 or spread them out over the rest of your plan.
Daily to-dos (30-ish minutes)
Here's a video I made about how to review mistakes:
Week 1 Tasks
Week 2 Tasks
Week 3 Tasks
Week 4 Tasks
Week 5 Tasks
Week 6 Tasks
Week 7 Tasks
Week 8 Tasks
Week 9 Tasks
Week 10 Tasks
Week 11 Tasks
Week 12 Tasks
Week 13 Tasks
Week 14 Tasks
Week 15 Tasks
Week 16 Tasks
Good luck, and happy GRE studying! If you enjoyed this free guide, check out Vince's other free GRE resources.
Reminder that we help people prepare for the GRE who are applying to graduate school, business school, and law school. We also specialize in GRE prep for LD / ADHD students as well as older and non-traditional students.