Blake Jensen
Blake: I'm a native San Diegan, father, and an aficionado of basketball, vintage video games, pitchy karaoke, and lecturing my son on how much better Star Wars was "back in the day." I played college basketball at St. Mary's College and Whittier College, where I earned my B.A. in Psychology in 2002.
Having been a full-time test prep coach for over 13 years, I have seen just about every type of student and tutoring situation. This allows me to give my students exactly what they need to reach their goals.
My years of experience have also led me to coach my students a little differently than most. A lot of test prep revolves around how to answer a question. While that is a necessary component, identifying what is needed to answer a question is at least as important, especially for timed tests like the SAT and ACT. I show my students how to look at the test the way I do, to the patterns and tendencies of the tests to make them faster and more accurate.
Though I still work with students of all types, these days I tend to specialize in students with ambitious score goals.
SAT tutoring with Blake is $275 / hour (or $248 / hour for 10 or more hours).
He meets clients in his Del Mar Heights office or online via Zoom.
"My 17 year old daughter used Blake this past summer for a month to help her improve her SAT scores for college admittance. Blake thoroughly trained her for the test and she felt prepared going in on test day. Her scores went up 200 points with Blake's fantastic tutoring help. She is thrilled. Blake is worth every penny of your time." - Stephanie Asuncion
Matt: I am originally from Hopkinton, Massachusetts - the start of the historic Boston Marathon. I went to college at Northwestern University, where I graduated with a degree in Theatre. After college, I wised up and moved to the warmer coast. I worked in Los Angeles for many years as a full-time SAT / ACT tutor and part-time arts educator.
I have been tutoring for over 10 years and have spent thousands of hours helping students improve their scores. Recently, I moved to San Diego after getting a M.A. in Education from Stanford University, and I currently work as a credentialed classroom teacher.
When I'm not working, I enjoy good books, performing improv comedy, surfing, watching Game of Thrones, and enjoying the charms of San Diego. I live in North Park, where I love to get out and take advantage of all the delicious food in the area. I am also a huge Boston sports fan - the Patriots, Red Sox, and Celtics are my favorite teams. I usually have something in common with every student - my interests are really diverse!
SAT tutoring with Matt is $200 an hour ($180 / hour for 10 or more hours). He meets with students online via Zoom, and in person in North Park or Mission Valley. Matt specializes in helping students set and achieve ambitious score goals, as well as helping them build their confidence and test-taking abilities. 
Matt also teaches all of our live SAT classes.
"My son had Matt as an SAT tutor. Matt's personality made him look forward to the sessions and made studying much less boring. The math text that Matt used was very helpful in assisting with conquering the more challenging problems. His score bumped up 320 points after 10 sessions with Matt and completing the problems that Matt assigned. Thank you!" - Lance Moore
Matt Sheelen
(Above: Vince walks you through a few verbal sample questions.)
One-on-one Digital SAT tutoring from veteran tutors
New! I interview our SAT tutor Blake Jensen about the new Digital SAT - watch here.
(Our lil' podcast about the test)
Want to jump straight in? Download the College Board Digital SAT app "Bluebook" and try out a free Digital SAT practice test! There are now four tests available. Please note, the four PDF tests on the College Board website have questions that are also on the app's tests, so we recommend taking the app's tests first and then using the PDFs as question banks.
When will the Digital SAT Start?
The Digital SAT will begin in March of 2024 for U.S. students.
The Digital PSAT will begin in October of 2023.
International students will start taking the digital SAT in March of 2023.
Since we're test-prep nerds, we'll be updating this page with the latest info on the Digital SAT as we learn it. Yep, we're actually excited about these changes!
We've adapted our tutoring to SAT reconfigurations before, and like the last change to the SAT in 2015, this new change appears to be mostly cosmetic (from a content point-of-view).
What is the new Digital SAT?
Executive summary
- It's still an SAT and will be used by colleges for admissions decisions.
- The Digital SAT will be taken using the College Board app.
- The content on the test's two verbal and math sections will be similar to that of today's test, but a few new topics will be tested.
- The biggest difference? The reading and writing passages are now very short - about 100 words per passage.
- Students will have a little more time per question than they do on the current SAT.
- The test is adaptive - how you performed on the first verbal and math sections will determine the difficulty level of the 2nd section of each type.
- It is ALWAYS to your advantage to do the best you can on each section. In other words, it is a bad idea to do poorly on the first section so that the 2nd adaptive section's questions are easier.
- This means the test is way shorter: about 2 hours instead of the current 3 hours.
- Students will get their scores in "days" (instead of having to wait 2-3 weeks like they do now).
- As you might guess, students will probably be excited about a shorter SAT with no long reading passages and more time allotted per question!
Digital SAT FAQ
How long is the Digital SAT?
It's only about two hours long. The "Reading and Writing" section and the "Math" section are 64 minutes and 72 minutes, respectively. Each section has two modules, with a short pause between them. Students will not be permitted to finish a section early - weird, but ok.
What is the Reading and Writing Section like?
The reading passages are now very short - about 100 words. I hesitate to even use the word "passage" here - more like a mini-passage. There will only be one question per passage. You'll have 54 questions and 64 minutes, split up into two modules of equal length.
The section is a mixture of reading comprehension questions and grammar / punctuation / usage questions. Some "reading comprehension" questions involve more logic reasoning than the old SAT: strengthening arguments, for example.
A couple of other minor, yet interesting, content differences: there's a sample passage that's a poem, and another that asks a question about someone's bullet-pointed notes!
Below, I'll post some sample questions from the new digital SAT.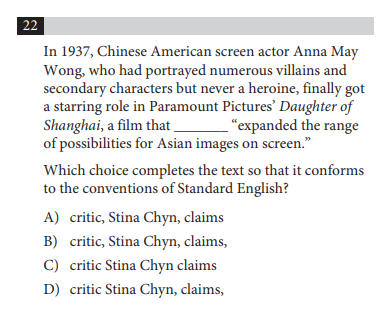 (above: grammar questions look similar to the current SAT)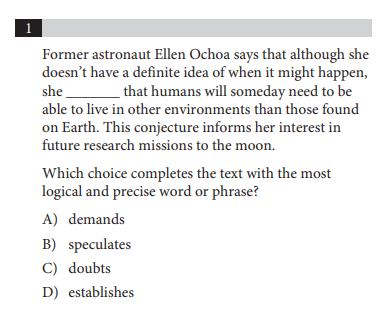 (above: a vocabulary-in-context question)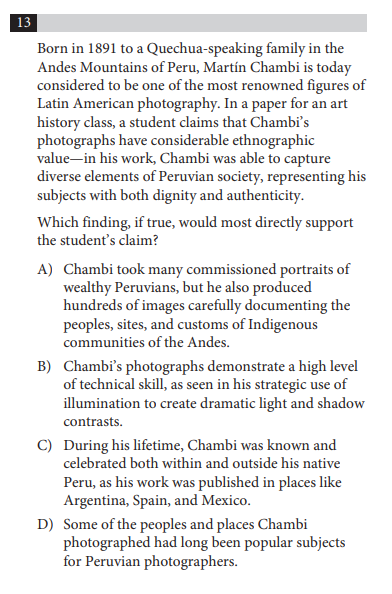 (above: strengthening an argument)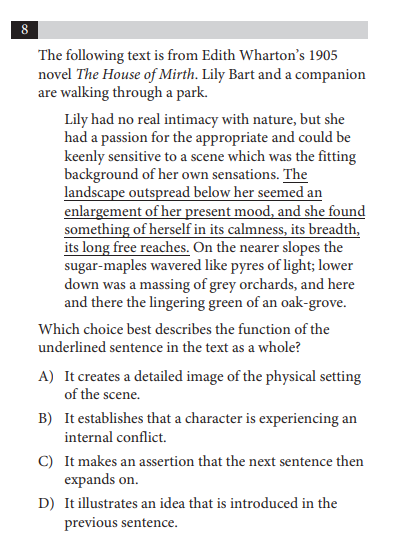 (above: function of a sentence)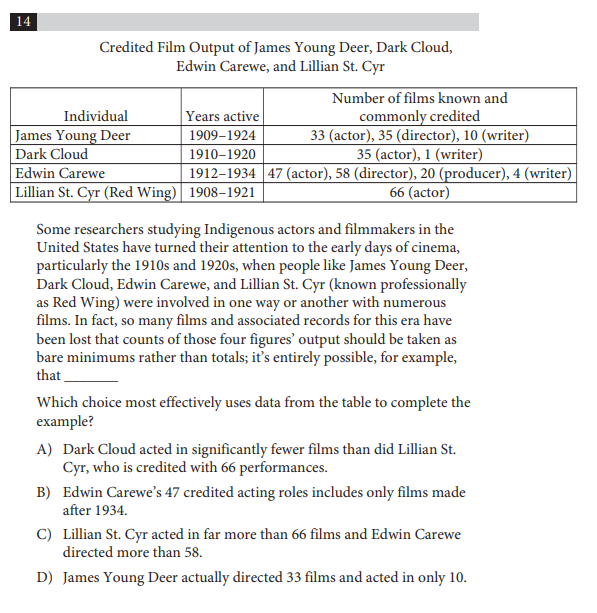 (above: using data from a table)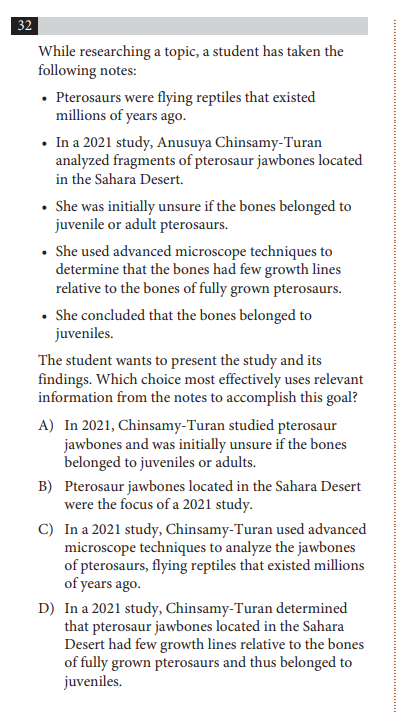 (above: being an editor)
What is the Math Section like?
The math section's content is the same as the current SAT: mostly algebra, with some data analysis and geometry / trigonometry. You'll be able to use an on-screen or approved calculator throughout the section. Check out the calculator you'll be using here.
The math section has 44 questions and 70 minutes, and, like the verbal, is split up into two sections of equal length with a short pause in between. 33 questions will be multiple choice; 11 will be questions for which the student has to input a specific answer.
Content differences here will be important to watch once we get more sample questions and tests - we want to make sure you know which math concepts are going to show up.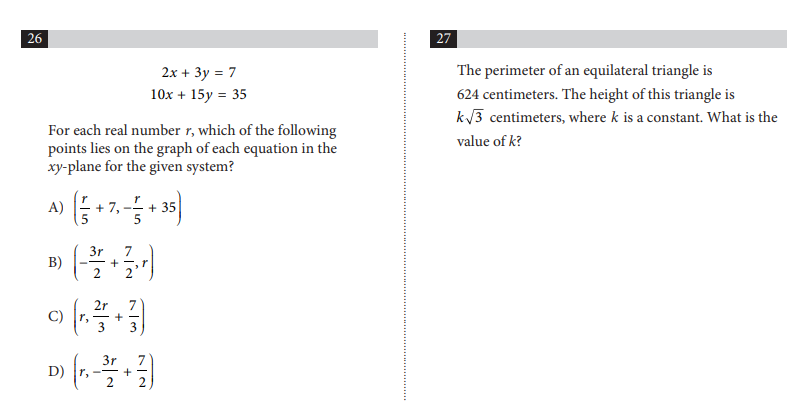 (above: two fairly hard Digital SAT math questions)

(above: another toughie!)
​
What features does the Digital SAT software have?
The math sections have an on-screen graphing calculator called Desmos. There is a tool to flag questions within a section if you want to come back to them later, and a review screen, on which you can see which questions within a section you've answered or flagged. You'll also see a timer on screen to show how much time is left in the section you're working on. However, you can't draw on the screen. 
P.S. Learn more about using Desmos on the SAT here.
Can you use scrap paper?
Yes - you can use scrap paper that you hand in at the end of the test. The Digital SAT app will allow you to highlight parts of the text on the screen.
How is the Digital SAT scored?
Just like the current SAT, the Digital SAT will be out of 1600 points, with a score from 200-800 in the Reading / Writing section and a score from 200-800 in the Math section.
When will Digital SAT practice material be available?
The College Board plans to release 8 full practice tests + a PSAT in the new format by the summer of 2023. Practice tests will provide optional accommodations.
Other than those College Board tests, the resources we recommend for self-studiers are:
Math: 1600.io and Ela Sharma's guides are both great to teach concepts, and Mathchops is an amazing practice resource.
Verbal: Erica Meltzer's guides are best-in-class, just like all her SAT and ACT guides.
Is the PSAT going digital, too?
Yes - starting in the fall of 2023, the PSAT will be digital and will be the same exact format as the digital SAT. Want to prepare for the Digital PSAT? We can help! All of our SAT tutors are equally able to tutor the PSAT, since it's the same thing.
What are the pros and cons to the new digital SAT?
Pros:
it will probably be available to take more often than the current 7 times a year system.
you get your scores more quickly.
it's an hour shorter and, if you don't like long reading passages, there aren't any.
Cons:
you have to take it online - it's usually easier to take a test on paper, since you can annotate, underline, etc.
If you don't like task switching, the new test is a bit worse than the old one: each question on the Digital SAT presents an entirely new passage.
new things often have bugs: the 2015 redesign of the SAT not only had some quality issues at first, but there was also a paucity of accurate practice material for it.
it's very possible there'll be software issues that may cause chaos for some students.
The Bottom Line
The new SAT is still in development, and since there's the possibility that the test will have some problems at first, it might be safer to either try taking the current SAT or just taking the ACT. But since the content on the digital SAT will be very similar to the current test, if you're going to be a junior in March 2024, I don't think there's a downside to giving the new test a shot. All the SAT prep you hopefully started the summer after your sophomore year will help you do well on the digital SAT.
This to me seems like a savvy move by The College Board to try to wrest market share from the ACT, which now, by comparison, offers a more grueling test. Is the new SAT an improved assessment that reflects the skills students are likely to use in college, or is it a dumbed-down attempt to pander to kids who'd rather not have to read anything longer than a Twitter post?
Probably both.
In our view, the very most important question for parents to ask is this:
"Who, exactly, will be the person teaching my kid?"
We're probably the most expensive tutors in San Diego. Why? In stark contrast to our competitors who employ a rotating cast of 23-year-olds, our tutors have an average of 10 years of experience. We pay them really well because we only hire tutors who are extremely good at what they do.
One-on-one tutoring, with us, is completely customized to your learning style, personality, and needs.
Talking through the nuances of SAT practice questions not only allows us to explain, in detail, the strategies that work, but that conversation also allows us to see what a student is thinking, ask the right questions to test understanding, and adjust our instruction minute-by-minute.
FAQ
"What are the benefits of SAT tutoring?"
Instruction tailored to your child's learning style, motivation level, and personality
The opportunity to talk through the nuances of questions with someone with several years of experience with the test
Homework adjusted to your specific needs
Accountability and encouragement :)
"When should SAT tutoring begin?"
About 10-12 weeks before a certain official SAT date, but that might depend a little bit on a student's situation. A great time to start SAT prep is the summer before junior year - and often students take the test once in the fall at the beginning of junior year and once in the spring, though some take it as late as the fall of senior year.
"How often should we meet with a tutor?"
Typically, SAT tutoring works well if we meet once a week for 90 minutes, though that can vary. Ideally, the student will also have time to do about 3 hours of homework for us each week to practice more on their own.
Private SAT tutoring is simply the most effective and efficient way to raise scores.
Look for each tutor's location and pricing in their bio. Questions? Contact any of them directly.
"Our daughter worked with Matt Sheelen to prepare for the ACT, and she could not have been more pleased. Matt gave her clear strategies to improve in the areas that she needed to most, and, from her 1st practice test to the real test, she raised her score 8 points! She did so well on the actual test the 1st time she took it, that she did not even need to re-take it, as many students choose to do. On top of Matt's expertise, he happens to be a really great guy that relates well to teens (and their parents :-) ). My daughter really enjoyed working with him and we highly recommend him."
- ACT Parent
"My 17 year old daughter used Blake this past summer for a month to help her improve her SAT scores for college admittance. Blake thoroughly trained her for the test and she felt prepared going in on text day. Her scores went up 200 points with Blake's fantastic tutoring help. She got a 1250 and is thrilled. Blake is worth every penny of your time. Thank you again."
- SAT Parent
"My daughter worked with Bronte D'Acquisto for about two months to prepare for her SAT and ACT. Bronte's help was invaluable! She assessed where Fiona's strong points and weak points were on both tests, and worked to improve on the weak points. They offered proctored practice tests so you can take the test in a testing situation, which I highly recommend. My daughter got exceptional scores on both tests on the first attempt, and I think Bronte's focused tutoring made all the difference. Thank you!!"
- ACT Parent
"(Student) and I will always be grateful to you, Vince, for all the support and guidance you provided to him which enabled him to do amazing on his SAT. He was also thrilled that he only had to take it one time. I will admit, getting private SAT tutoring was definitely a sacrifice...especially being both a single mom and a teacher, but it was honestly the absolute BEST investment. His GPA is not very high, so I know his SAT score really helped him, not only with being admitted to every school he applied to, but also with the merit scholarships he earned. They offered him a guaranteed slot into their direct entry doctor of physical therapy program as well as a full-tuition scholarship beginning freshman year and continuing until the completion of his doctoral program."
- SAT Parent, The Bishop's School