Ultimate Year-by-Year GRE Prep Guide for College Students
3/18/2019
(have you watched Animal House?)
In this guide, you'll find:
First, The Basics
Remember the SAT? Good times. Well, the GRE is very similar. It will test your reading, writing, vocabulary, math, and reasoning skills, all while trying to trick you. Yay. If you're interested in what will be on the test, read my What is the GRE? page.
Why listen to me? I'm a GRE specialist. I've been tutoring / teaching the GRE full-time since 2008, I've co-written GRE books, and I've created GRE video courses. I've also scored perfectly on verbal twice (my highest combined scores are 170 verbal, 167 math).
This video comparing the test-prep industry to the pizza industry explains why you should NOT do any GRE prep with a big company (like Kaplan) or with your university.
I wrote a blog to address this issue, too.
And here's a video, starring the cast of Friends, that explains how to screw up your GRE prep:
First, second, and third years
Don't worry about the GRE yet! But, build a strong foundation for the test, so GRE prep will work better for you when the time comes.
To be more productive with life and school, try this this productivity planner. Trust me, it's life-changing.
Build your verbal ability by making reading a hobby. Try aldaily.com for articles. (If it's not fun, change what you're reading. If you don't have time to read for fun, try the productivity planner above!
Look up words you don't know - the context will help you remember them better than using flashcards.
Follow my GRE vocabulary illustrations on Instagram: @GRE_vocab_words (example below).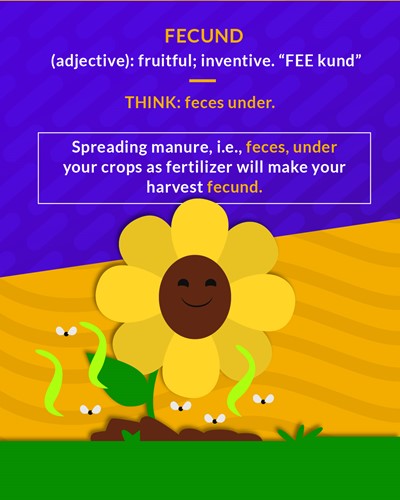 (Gross, but you'll remember it, I'll bet.)
Senior Year
Start GRE prep about 3 to 6 months before you apply. Allow more like 6 months if you're "bad at math".
Learn about the GRE by reading my What is the GRE? page.
If you need testing accommodations - like extra time - go to the GRE's website to learn how to apply. Do this sooner rather than later.
The verbal and writing sections are all about precise technique. This is where you get the most bang for your buck in the short term if you hire a tutor or take a class. Keep studying that vocab! I have a complete GRE verbal video course here, and a bunch of free videos on YouTube.
The math sections are all about practice - this DOES take a long time for most people. A tutor or class can help, but most progress will come from you doing lots and lots of math problems.
Are you bad at math or do you hate it? Start with our guide to using Khan Academy to practice GRE concepts.
Use this iPhone app or this Android app to build mental math skills.
Follow a study plan (for example, ours).
Use the right materials - official ETS material is crucial.
Tip: You can take the test more than once, so perhaps allow enough time to retake it if needed. You can also choose to only send your highest scores.
Most of you could use help writing your personal statements / statements of purpose. Check out Graduate Admissions Essays by Donald Asher for great advice about the whole admissions process.
Other Free GRE Stuff!
77 Things To Do During Your GRE Prep.
My online GRE course on LinkedIn Learning (Your school might give you free access to it).
All my free GRE videos, which cover all official ETS Math Practice book questions and some verbal and math techniques.
Choose Your Own GRE Math Adventure! - an interactive game to teach you GRE math question tricks and hacks.
My "GRE For High Scorers" blogs: one, two, three, four, five, six, seven, eight, and nine. Trust me - these are worth reading, even if watching a video sounds more fun.
Stuff You have to Pay For
Our in-person  and online GRE classes. Read our reviews on Google or Yelp to learn more about us. We have more 5-star reviews than any other local GRE prep company, even though we're really small.
We'll also be happy to tutor you one-on-one either in person or via Skype. Contact us!